Overnighting
For many bushwalkers, the most satisfying walking involves backpacking over a number of days and camping out, to become immersed in the wilderness experience.
Campsites
The walk routes on WalkGPS are primarily intended as day walks, but there are also excellent designated campsites within, or close to, at least 24 of the walk routes on this site (listed below). Campsite location details are included on each of those walk pages of WalkGPS along with suggestions for overnight stays in the walk areas.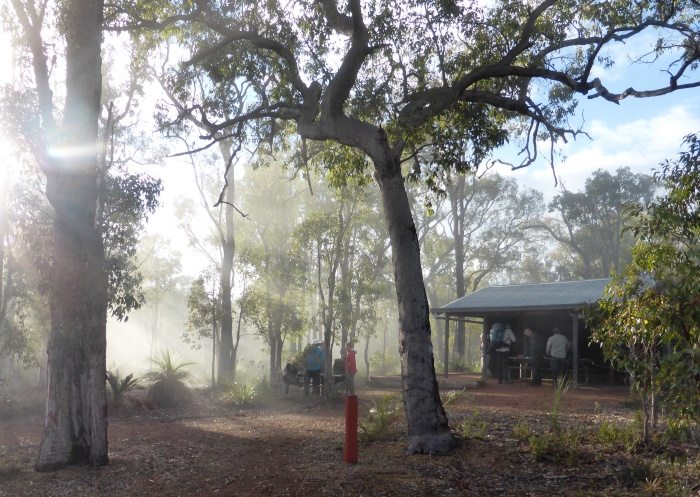 The campsites are mostly Bibbulmun Track sleeping shelters. These may be used only where the walk routes include a significant section of the Track; Groups of 8 or more walkers cannot occupy a sleeping shelter at a Bibbulmun Track campsite until after 6pm. If you are planning an overnight or multi-day walk for a group of 8 or more walkers and plan to camp at the Bibbulmun Track shelters you should email a Notice of Intent to the Bibbulmun Track Foundation at least a month before your walk to help BTF avoid overcrowding at the campsites. There are no fees for use of these campsites and they cannot be booked.
A standard DBCA fee applies for the Avon Valley National Park campsites.
Camping restrictions
Opportunities for backpacking with overnight camping away from the designated campsites are currently very limited. Such camping has been banned throughout the extensive water catchment areas, which cover most of the 4500 sq km of forested region and walk areas of the Darling Range within the Perth region. Around 80% of the traditional bushwalking areas lie within the water catchments. Camping for walkers is restricted to the designated campsites along the Bibbulmun Track between the Kalamunda Terminus and Dwellingup townsite. Within the larger part of these forest areas bushwalkers are therefore limited to day walks only.
Some overnighting options
| Walk | Nearest Campsite | Proximity |
| --- | --- | --- |
| Abyssinia Rock | Canning (Bibb. Track) | Off route, 3.3km WSW of walk area. |
| Avon Valley - Both Sides | Homestead | At start point. |
| Avon Valley South Side Variation | Bald Hill | At start point. |
| Balmoral POW Camp - Three Mountains | Monadnocks | On route, 11.5km from Balmoral POW Camp. |
| Barrabup Pool - Southeast | Barrabup Pool | At start point. |
| Beedelup Extended Loop | Beedelup (Bibb. Track) | On route, 1.2km from Beedelup Falls carpark. |
| Darkin Ridge - Beraking | Beraking (Bibb. Track) | On route, approx. half-way point. |
| Dryandra | Congelin | Off route, 2.7km SW of walk area. |
| Gibraltar Rock (Mumballup State Forest) | Glen Mervyn Dam (western side) | At alternative start point. |
| Helena Valley (Glen Forrest) | Hewett's Hill | Off route, 3km SSW on track. |
| Manns Gully - Chinamans Gully | Helena (Bibb. Track) | Off route, 1.1km SW of walk area. |
| Mount Cooke | Mt Cooke (Bibb. Track) | On route, about half-way point. |
| Mount Dale | Mt Dale (Bibb. Track) | On route, 2km before walk end. |
| Mount Dale North | Mt Dale (Bibb. Track) | Off route, 2km south of start point. |
| Mount Randall | Monadnocks (Bibb. Track) | On route, 3km east of start point. |
| Mount Randall – Eagle Hill | Monadnocks (Bibb. Track) | On route, 3km east of start point. |
| Mount Vincent – North Mount Cooke | Mt Cooke (Bibb. Track) | Off route, 2km SE of walk area. |
| Murray River (Lane Poole Reserve) | Murray (Bibb. Track) | On route, about half-way point. |
| North Dandalup | Dandalup (Munda Biddi B.T.) | On route, 4km after start point, or 4km before end point. |
| North Ledge – South Ledge | Hewett's Hill (Bibb. Track) | Off route, 700m west of half-way point. |
| St John Brook | Barrabup Pool | At start point. |
| Three Mountains | Monadnocks (Bibb. Track) | On route, after first 5km of walk. |
| Turtle Pool – Eagle Hill | Canning (Bibb. Track) | Off route, 5km NE of walk area. |
| Wellington Dam - Arcadia | Arcadia (Bibb. Track spur) | On route, 3.5km from start point. |
| Wellington Dam - Devils Elbow | Arcadia (Bibb. Track spur) | 1.5km off route, in east. |