Bushwalking in winter

(This is an edited version of a front-page article published in "Have-A-Go" News, August 2017, issue 305.)
_____________
Bushwalkers love winter in Perth. The cooler months are the best time for walking; to get outdoors and explore the parks and forests in the Darling Range near Perth; to nurture the body and mind through an immersion in nature. The beauty of the woodlands, the wildflowers and the many impressive granite outcrops are ample motivation. Dave Osborne, the author of popular Perth bushwalking website 'WalkGPS', urges that no matter your age, it's never too late to get started:
More younger people today are discovering bushwalking through online Meetup groups, but it continues to also attract a large and committed following among older members of the community. Australia-wide, active seniors participation in bushwalking ranks high on a list of more than 50 other recreational activity options.
Many wonderful bushwalking areas lie within 1 hour's drive from Perth or less and newcomers often enjoy their first bushwalking experience on the very popular Eagle's View Trail in John Forrest National Park. But unless they prefer a short family-friendly walk of less than 5-10km, or a multi-day hike on the Bibbulmun Track, the search for opportunities for other, less busy circuit day walks of good length and quality can be frustrating without help.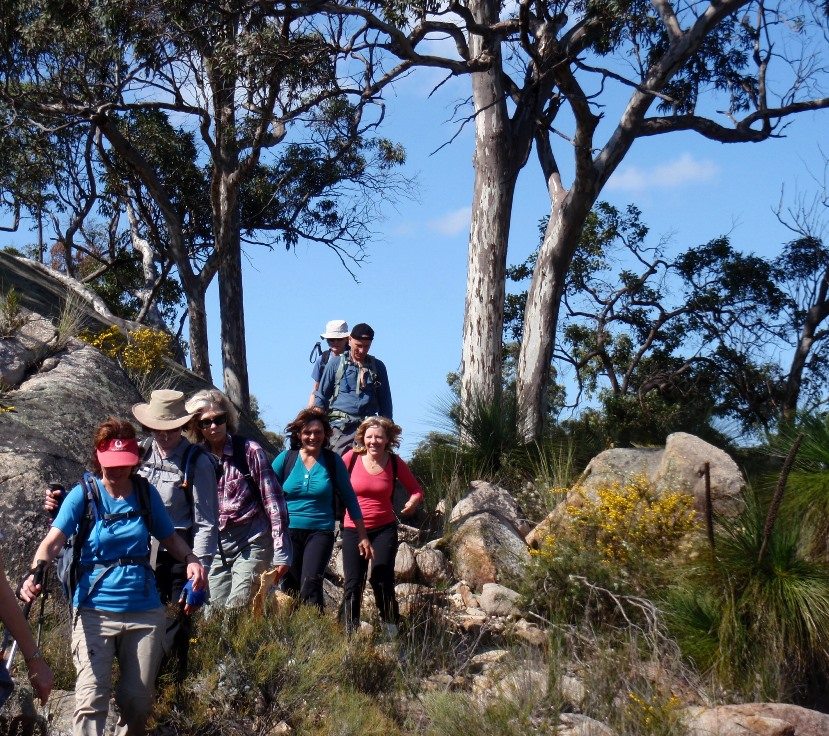 Joining a club provides an ideal way to discover those other walks with experienced, like-minded spirits and to also develop some useful bushwalking skills. Perth's largest club, Perth Bushwalkers Club, typically offers at least 3 day walk activities each week through the cooler months.
Osborne's WalkGPS website, recently completely updated and re-launched, also provides details – including directions, walk maps, GPS navigation data and route notes – for more than 70 circuit day bushwalks in the Perth region. These visit more than 20 parks and reserves near Perth in addition to the state forests and provide a total of more than 1000km of local, accessible walking opportunities. These are mostly not documented elsewhere but have been well-tested by walkers over the 14 years since WalkGPS first went online.
The walks on WalkGPS are all circuit walks, starting and finishing at the same location, so avoiding any need for car shuffles. They also cater to a wide range of walker experience and fitness. Walk distances range 9 –19km, with an average of 15km. The shorter, easier WalkGPS walks don't require navigation skills, and are a good way for novice bushwalkers to get started and gain confidence. The Trails WA site also includes information on several, mostly shorter bushwalks close to Perth.
The WA Strategic Trails Blueprint 2017-2021 released by the DLGSCI – Sport and Recreation in May this year acknowledges that WA still lacks State-wide and regional trails strategies for bushwalking. It seems development of more circuit trails to encourage bushwalking in our parks and reserves may be some years away. Meanwhile, as a passionate advocate for bushwalking in the Perth region, Dave Osborne hopes his non-commercial website will continue to encourage anyone who can walk, young or not-so-young, to discover the great wealth of under-recognised opportunities close to the city.
Visit walkgps.com.au for more information.
Reference
"Have-A-Go" News, August 2017, issue 305.