Waterfall wonders on Perth's doorstep
Heavy rainfall in Perth Hills – including 130mm, or over 5 inches, at Bickley during 27-30 June 2020 – means the four best known waterfalls along the Darling Scarp close to Perth will be looking spectacular. And fortunately they are easily reached: 'Bells Falls', Lesmurdie Falls and Sixty Foot Falls are only 30-45 min drives from the city and  Serpentine Falls is only a little further. Also the drive from Bells Rapid to Lesmurdie Falls takes only about 40min, and from Lesmurdie Falls to Sixty Foot Falls (Rushton Rd access) is only 20min, so it's also easily feasible to comfortably visit those three falls and enjoy three short walks in a single day!
The little known 'hidden falls' of southern Banyowla Regional Park are also worth a visit, but they are more challenging to reach and only for adventurous walkers. See links below to WalkGPS pages for extended circuit walks that also visit each of the falls.
'BELLS FALLS',  Walyunga National Park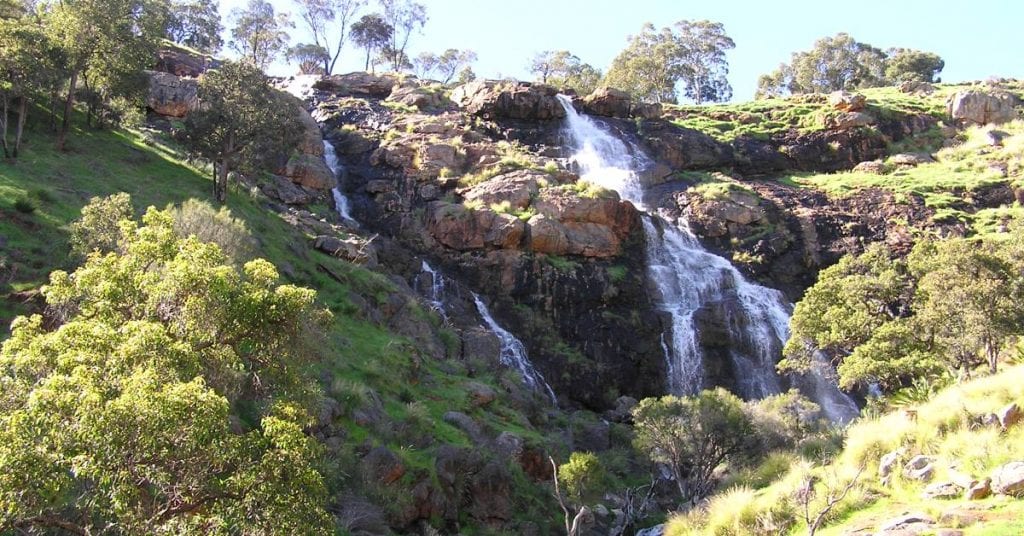 Only 33km (45min) from the city:  Bells Rapid near Brigadoon attracts many visitors during the annual Avon Descent, but 'Bells Falls' in a nearby picturesque side valley are an attraction in their own right and can be reached via a short walk from Bells Rapid carpark. CAUTION:  Access to the informal track to the waterfall  from Bells Rapid carpark  crosses the railway along the east side of the River. For safety reasons warning signage with contact information has been placed at the crossing, requesting any walkers planning to cross to contact the railway operator company (Arc Infrastructure)  in advance. Heed the sign/s. Trains pass frequently, so exercise great caution at the railway crossing. For details see: https://www.walkgps.com.au/walk/bells-rapid-mount-mambup-walk/.
LESMURDIE FALLS, Lesmurdie Falls National Park / Mundy Regional Park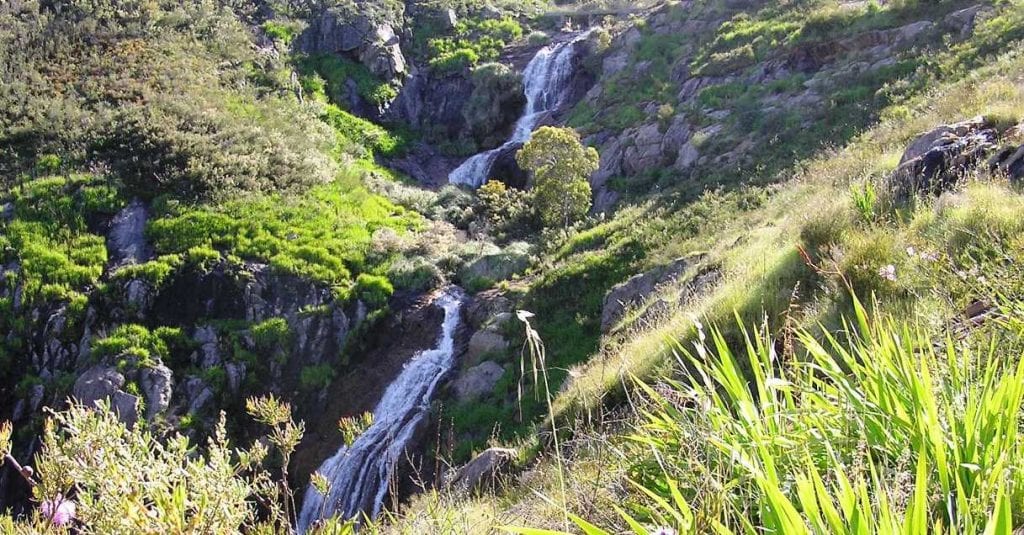 Only 19km (30min) from the city and accessed via the short trail from Palm Terrace (Lewis Road) below the falls, or from Lesmurdie Falls carpark, off Falls Road above the falls.  The falls cascade impressively down the Scarp over two main drops totalling about 50m. For details see:  https://www.walkgps.com.au/walk/whistlepipe-gully-lesmurdie-falls-walk/.
SIXTY FOOT FALLS, Ellis Brook Reserve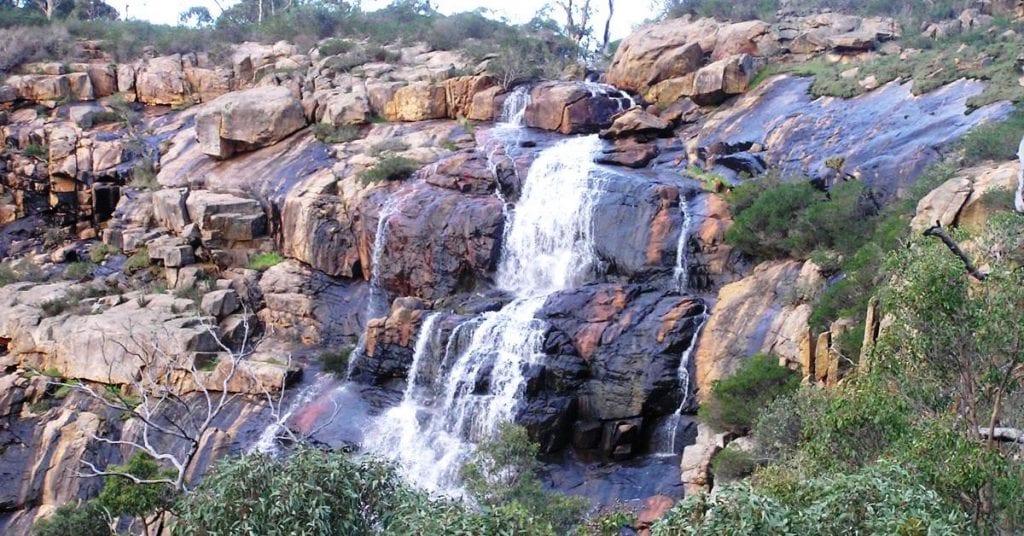 Only 25km from the city; the short (~2km) Ellis Brook circuit trail leads from the end of Rushton Rd in Martin, up a steepish climb to the bare granite outcrop and stream at the top of the impressive Sixty Foot Falls. From here there's  a good view back down the valley and across the coastal plain to the city. For details see:   https://www.walkgps.com.au/walk/bickley-reservoir-ellis-brook-walk/.
SERPENTINE FALLS, Serpentine National Park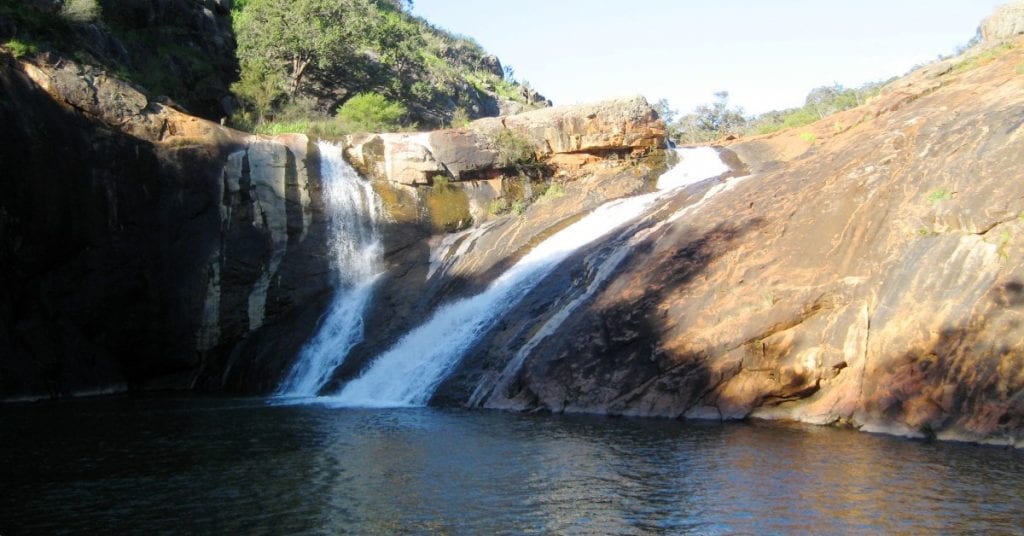 65km (50min) from the city; and then just a short (250m) walk from the carpark at the end of  Falls Rd, off South Western Highway. https://www.walkgps.com.au/walk/kittys-gorge-serpentine-falls-walk/.
'HIDDEN FALLS',  Banyowla Regional Park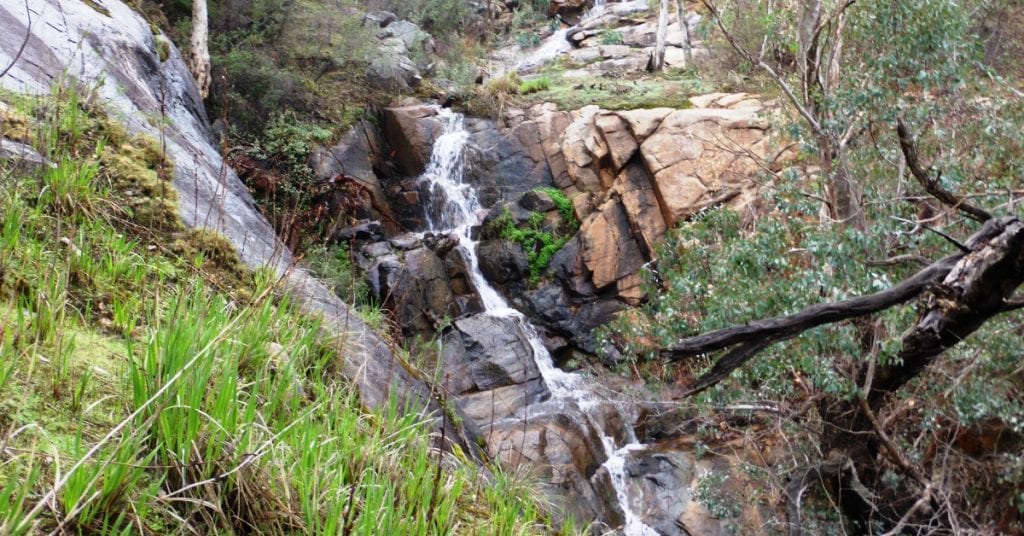 26km (30min) drive from the city;  South of Ellis Brook (Sixty Foot Falls) and Gosnells Quarry, these little-known but impressive 'hidden falls' can only be reached by some adventurous bushwalking and good navigation skills. Includes some short scrambles up and down steep slopes. and old foot-tracks. For details see: https://www.walkgps.com.au/walk/banyowla-south-walk/ .