Water catchments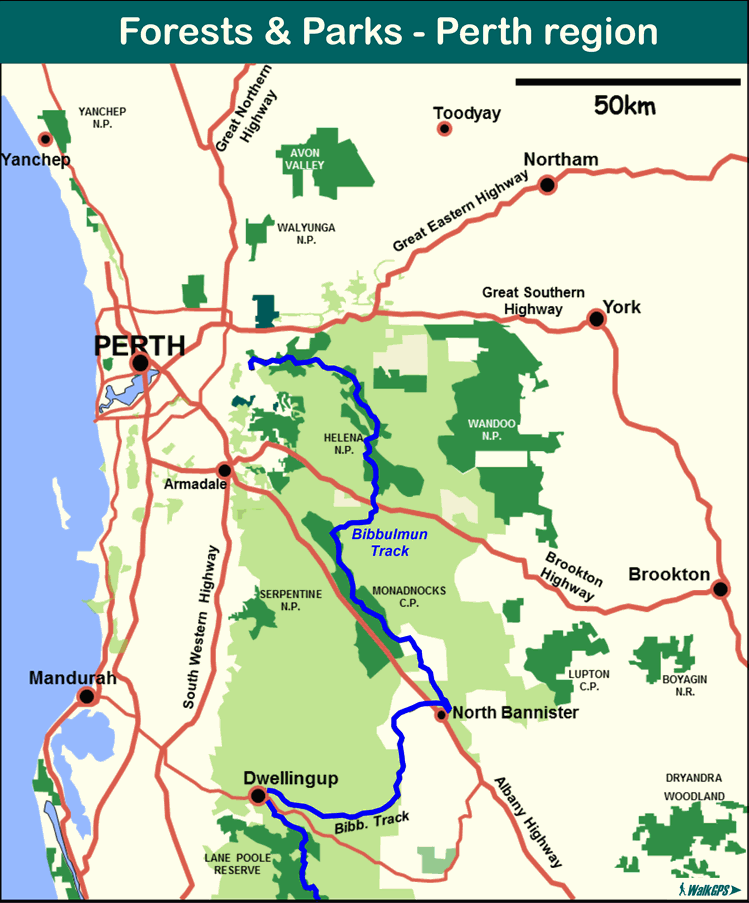 Drinking water catchments encompass the major portion (around 80% or 4500 sq km) of forested walk areas close to Perth. They cover a large majority of walk areas included on WalkGPS and affect access for bushwalking.
Reservoir Protection Zones (RPZs)
Entry to 2km-wide RPZs around the water reservoirs is currently prohibited as a precautionary measure intended to protect against perceived risks to drinking water quality.
Outer catchments
Traditional backpacking involving overnight stays in the outer catchments beyond the RPZs and away from the Bibbulmun Track has also been banned under Government Department (formerly DoW, and now DWER) policies since 2003.
DoW plans published in 2007 also in effect intended to bar day bushwalking from the entire outer catchments except along the Bibbulmun Track and other unspecified 'designated' tracks. The outer catchments extend far beyond the limits of the RPZs, across most of the northern 4500 sq km of forested area of the region. Such a proposed ban if implemented would have been the death knell for traditional (partly cross-country) bushwalking in the Perth region.
Thanks to extensive submissions to Government by bushwalkers and other community groups, the DoW later reconsidered its published 2007 Plans. In the latest policy update, released by DWER in July 2019, DWER recognises "free-range" or off-trail walking in the outer catchments as an acceptable activity (at "2012 levels"), but traditional backpacking involving overnight stays away from the designated campsites along the Bibbulmun Track remains banned since 2003.
A future for traditional bushwalking?
DWER's "Operational Policy 13: Recreation within public drinking water source areas on Crown land" is to be reviewed again in 2024. Existing and aspiring bushwalkers, bushwalking clubs and all others interested in the continuation of traditional bushwalking need to be vigilant. There can be no net cost benefit to the State of lower cost pure, sterile water if it comes at the high cost of a generally unfit and unhealthy community lacking access to sufficient and  enjoyable recreational activities. Bushwalking has long been a popular, healthy and compatible recreational activity in our parks and state forests in the Perth region; It must continue to be recognised as a legitimate activity into the future.
Additional information
Public drinking water source areas (PDWSA) online mapping tool – DWER. A useful tool for checking if your activity is located in a drinking water catchment protection zone or priority area.
Submission to Inquiry into Recreation Activities within Public Drinking Water Source Areas – D.G. Osborne (WalkGPS), 24 Nov. 2009. (Submission released with permission of inquiry Committee).
Water catchment access – HikeWest (WA's peak bushwalking / hiking organisation) web page.