A future for bushwalking in the Perth region?

Local bushwalking near Perth could and should have a more significant role in recreation and conservation-awareness in W.A. The growth potential of local bushwalking is under-recognised.
Since its beginnings in 2003, the WalkGPS website has encouraged the community to safely and responsibly discover the great wealth of opportunities for enjoyable bushwalking within 100km of Perth city. Bushwalks detailed on WalkGPS also introduce walkers to over 20 parks and reserves in the region they may never have visited previously, in addition to the state forests, so fostering a wider awareness of conservation challenges and access issues, and the need to protect and enhance the amenity.
Support for bushwalking?
Apart from the Bibbulmun Track, bushwalking near Perth has a low profile. Lobbying, planning and support for recreation in our parks today tends to focus on opportunities for the young, families and the under 40's, with emphasis on activities such as short, family-oriented walk trails and mountain biking.
Much less attention is given to opportunities for the active older sector of the community e.g. that ~30% of the local population in the 40-70 age bracket. Most of Perth's bushwalking clubs would confirm that typically over 80% of their active members are aged over 40 and see bushwalking as their primary recreation activity.
Demand for bushwalking
Bushwalking clubs, online Meetup groups and independent walkers are regular users of the WalkGPS site. The site averages over 1500 visits per week through the bushwalking season. The numbers reflect a strong and growing demand in the community for such healthy recreational opportunities close to Perth, especially for accessible, single day circuit bushwalks.
Many local walkers and interstate visitors to Perth seeking typical bushwalking opportunities in our parks will not be wanting a short family-friendly walk of less than 5-10km, nor a multi-day hike on the Bibbulmun Track, but rather a convenient, day bushwalk of around 15km near Perth that they can easily fit into their schedules.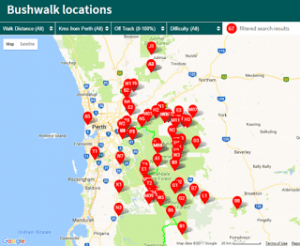 WalkGPS details a total of more than 65 wonderful traditional (partly cross-country) bushwalks close to Perth. These are mostly not documented elsewhere. They are all accessible, circuit day walks totalling over 1000km of quality bushwalking opportunities.
Yet there are few developed, quality bushwalking circuit trails near Perth. The popular Eagle's View Trail in John Forrest NP and the shorter Numbat Trail in the privately-owned Paruna Sanctuary in the Avon Valley are today the only two developed trails that offer bushwalkers day circuit walks of good length and quality in the Darling Range. Perth's population has grown by more than 40% in the 20 years since the Eagle's View Trail opened.
Much more needs to be achieved. The long distance Bibbulmun Track, with some more local 'looping' in its northern section, could help meet some of the demand for local, circuit walks. Development of day walk trails in Avon NP and Wandoo NP should be two of the priorities among the 22 parks and reserves for which walk routes are already described on WalkGPS. Visitor stats show that Eagle's View Trail, despite its popularity, currently ranks 11th behind other bushwalks on the site.
Some other popular walks on WalkGPS such as the extended (12km) on-track Victoria Reservoir – Bickley Brook Walk would be ideal for upgrading to a high quality 'designated' bushwalking trail and would doubtless have a great, positive impact for relatively small effort and cost. Such a trail would have much wider appeal than the existing 'official' 7.2km Victoria Reservoir Trail, of which more than one third (2.5km), requires walking on bitumen and gravelled road.
The "Walk to York" group's recently mooted 5-day hiking trail from Mundaring to York passing through Wandoo NP and state forests – though still at a formative stage – also deserves high-level support.
The opportunities are evident and abundant, but new trail development requires champions within the community plus vision, proactive support and facilitation from within government and its agencies, and from the Shires. The new WA Parks Foundation could have a valuable collaborative role.
Other challenges
The WalkGPS website notes several important issues that impact on traditional bushwalking in the Darling Range and threaten community access and 'quiet enjoyment' of the many excellent parks and bushwalking areas. These include in part:
Despite strategic studies into some of the issues, the critical challenges are not being adequately acknowledged and addressed. Politicians, regulators, land managers and others must consider how expedient, short-term policies and decisions (or indecision) will impact on the longer-term amenity and conservation values of our parks.
All who have an interest in the future of local bushwalking, and/or issues affecting the amenity value of the parks and state forests close to Perth, and their conservation, should consider the opportunities and challenges.